Category accounting data by Group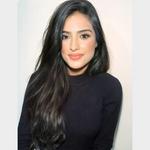 Updated by Jihen Laribi
For administrators of multi-entity instances, this feature allows you to simplify account management and maintenance. If you have different accounting data for the same category, you simply need to activate this feature. It will allow you to duplicate categories into subcategories, according to groups, and to configure accounting data for each of them according to your needs. 
Please note: User groups need to be created in the first instance. Here is an article to help you create user groups.
Activation of category accounting data by group
To activate this feature, please follow these steps :  
Go to "Administration" 
Click on the "Global settings" menu and then select the "Accounting" sub menu  
Activate the feature: "Accounting data of categories by group: Enables you to create subcategories grouped under the same global category (parent category)."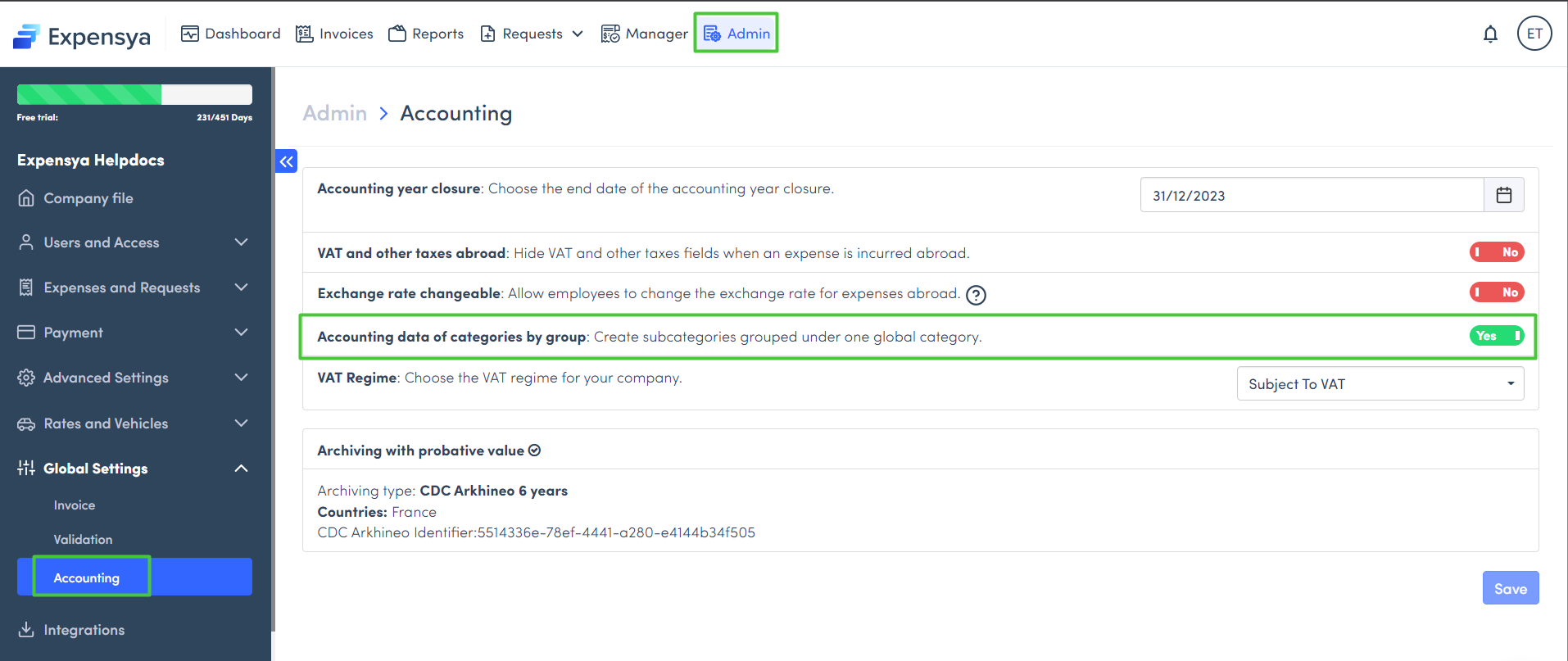 Creation of subcategories by group for a global category: Example: Meals
In order to create subcategories by group, and therefore by cost account please:  
Click on the "Administration" tab, "Advanced settings" menu and then the "Categories" submenu 
Find and click on the "Meals" category
Click on "Edit this list" 
Click on the "Subsidiary or entity" field and choose the correct subsidiary, modify the category title, select the "Accounting" tab to modify the expense and VAT accounts. Save.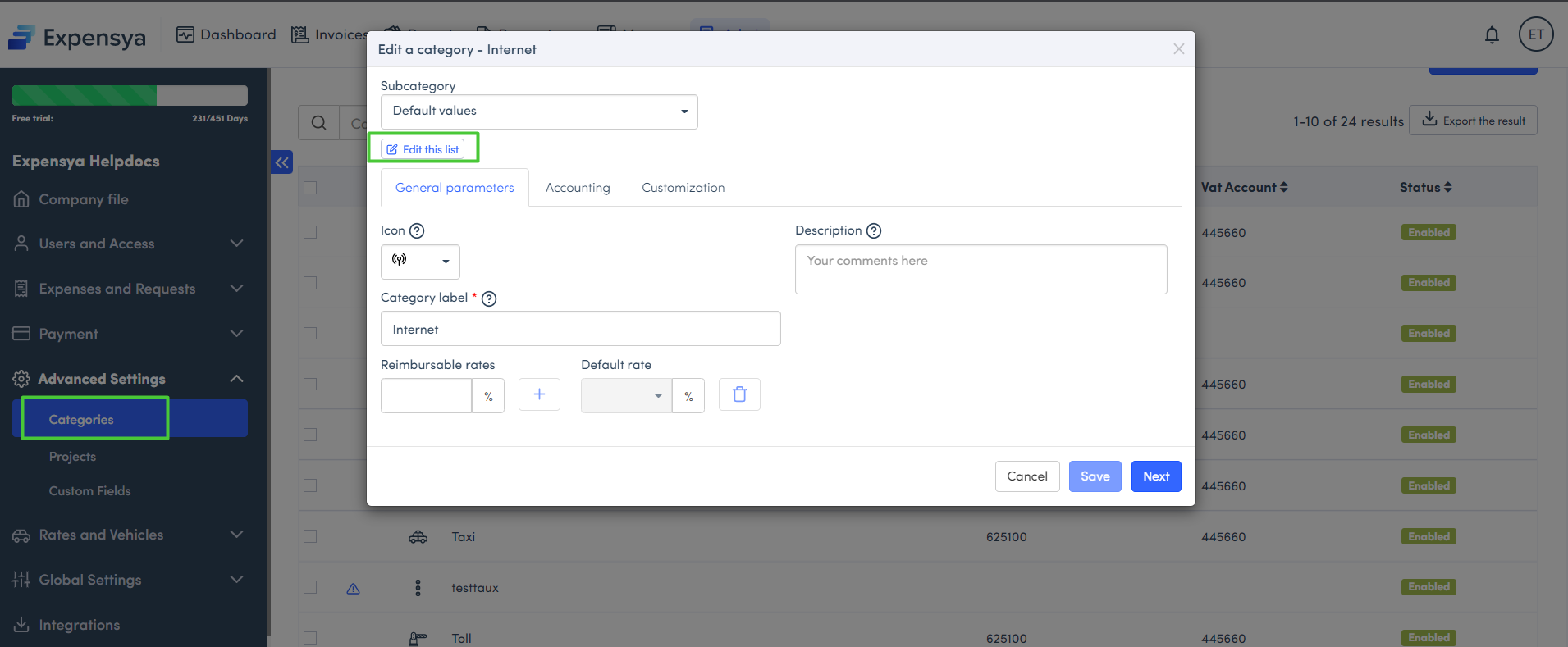 Let's suppose we have created two subcategories ("Meals France" and "Meals Spain") within the "Meals" parent category for the following two groups

- Group 1: France: which includes users residing in France
- Group 2: Spain: which includes users residing in Spain

By unchecking the box "Enable the settings displayed below for this subcategory" for the Spain group, users residing in Spain will only see the default parent category (Meals) and not the subcategory "Meals Spain".  And activating it for the France group means that users residing in France will only see the "Meals France" subcategory and not the 'Meals' parent category.  
The group configurations involved in the subcategories only apply to the following 3 tabs:

- General parameters
- Custom fields
-Accounting

As for the predefined categories, user groups, and merchant sites, they are applicable to the parent category (the default values for the Restaurant category in this example). You do not have the possibility to set them up separately, neither from the web nor from the import.
Case study 


A company with 2 subsidiaries (France and Spain) each with its own cost account. The administrator wants to configure the Meals category for these two subsidiaries.
In the first instance, the following two groups will need to be created:   
Group 1: France  
Group 2: Spain  

Option 1 :
The Meals parent category,"Default values", does not have an assigned group
Empty cost account
Active
Subcategory 1:
Title: Meals France
Assigned to group 1 "France"
XXXX cost account
Subcategory 2:
Title: Meals Spain
Assigned to group 2 "Spain"
YYYY cost account
Option 2 :
The Meals parent category, "Default values", does not have an assigned group
Empty cost account
Deactivate
Subcategory 1:
Title: Meals France
Assigned to group 1 "France"
XXXX cost account
Subcategory 2:
Title: Meals Spain
Assigned to group 2 "Spain"
YYYY cost account
Option 3:
The Meals parent category "Default values" is assigned to group 1 "France"
Title: Meals France
French cost account
In this case, the parent category is considered a subcategory
Subcategory 2:
Title: Meals Spain
Assigned to group 2 "Spain"
YYYY cost account
This is what will happen in the following scenario for each of the above options:

| | | | |
| --- | --- | --- | --- |
| Scenario   | Option 1   | Option 2   | Option 3   |
| Disable the "Meals France" subcategory assigned to group 2 "France" | Parent category activated, has no defined group, visible to all groups including the "France" group. However, the "Meals" expenses for "France" group employees will not have an export expense account. | "France" group employees do not see the "Meals" category at all  | "France" group employees do not see the "Meals" category at all  |